In 1860, Abraham Lincoln was a little-known politician running for president. In February of that year, he was in New York City to deliver a speech at the Cooper Union building. Just before his remarks, Lincoln stopped by the office of photographer Matthew Brady. There, Brady took a photo of Lincoln to mark the occasion of his speech. At Cooper Union, Lincoln then delivered a rousing address where he strongly opposed the extension of slavery. Within weeks, the photograph and the speech were printed in magazines and newspapers across the country. Although awkward and gangly in real life, the photo depicted Lincoln in a statesmanlike pose. This was the first time Americans were introduced to the obscure rail-splitter from Illinois. By the end of the year, Lincoln had won the presidency of the United States. Later, Lincoln said, "Brady and the Cooper Union speech made me President."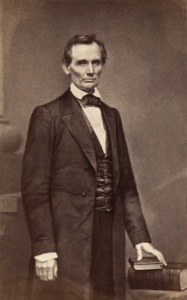 Stories like these demonstrate the power that photographers have over us and over history. Sometimes, all we remember about a historical event or figure is a single image. Think about World War II in the Pacific and you might picture the famous image of soldiers putting up the flag on Iwo Jima.
But what about the person behind the camera? Who are they and what is it like to document history? How do you capture an iconic image? Well, we are pleased to have one such individual as our guest. His name is Bob Knudsen and he has taken thousands of photographs over the years of many prominent people. And his father, Robert Knudsen, was one of the first official White House photographers, serving six presidents and capturing many iconic moments. We will explore his and his father's stories on this episode of This American President.
Check out Bob's website www.robertknudsenphoto.com to see more of his and his father's photos.
If you like what you've been hearing on our podcast, you can help us to grow by sharing an episode with your friends on Twitter or Facebook, our handle is @ThisAmerPres.
You can also support us by going to patreon.com/thisamericanpresident and giving any amount you choose per episode we release.
Music in this episode by Blue Dot Sessions (www.sessions.blue).